We firmly believe that well considered design of buildings and interiors maximises their usefulness, enjoyment and value. Our projects page shows the quality and value we have provided to our clients, on projects of all sizes.
We are part of a group which encompasses six other studios in Bournemouth, Nottingham, Aberdeen, Edinburgh, Fife and Glasgow. This means that we are backed by the resources and knowledge base of the other studios.
Our director Jason See is a Chartered Architect and a member of the Association of Project Management, and 1st Architects lse is a RIBA Chartered Practice. This means that we comply with strict criteria in the RIBA accreditation scheme. This offers you a mark of quality and the assurance of a high level of excellence in design and service. We are also a corporate member of the Association of Self Build Architects (ASBA), and Jason is also a director of this organisation. ASBA is Britain's largest network of architects that specialise in new homes, extensions, conversions and refurbishments.
We are quality assured to ISO9001:2008 standard by the BSI. This means we implement quality management appropriate to the scale of your project.
Jason See, Director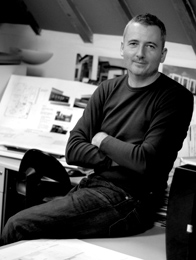 Jason remains personally involved in ensuring the quality of design within the studio. His aim is that we continue to deliver design solutions that are functional as well as appealing to the fundamental appreciation of form, space and light that is inherent in us all. Jason was previously an associate at King Sturge International Property Consultants and Senior Associate at Architect CT. At Architect CT he was responsible for projects for both branded and design-led hospitality clients with budgets of up to £2.5 million. Jason, however, remains fascinated by any opportunity to design people's homes and translate their very personal vision into reality. He retains his life-long passion for hand drawing as a way of working creatively through design concepts. The studio compliments these traditional skills with the latest 3D CAD modelling.
"Despite my commercial background, I am still fascinated by the opportunity to design a home and in doing so translate a client's very personal vision into reality." Jason See
Jarlath Harte, Project Coordinator
Jarlath Harte has been a key member of the team since 2008. He is highly qualified, with a BSc (Hons) in Architectural Technology and Management and a BA (Hons) in Architecture. He manages the design and production information within the office, ensuring technical quality. He maintains a very close association with each project from start to finish.
Well Conceived Design
"Thank you for attending the planning hearing. The unanimous vote in favour of the design is quite an achievement considering we added nearly 100sqm to the property." P Winter
Find out more
Get in touch
We will respond to your enquiry whatever the size of your project, and will be happy to meet you to discuss it further.
Contact us